Okay, remember all those Mario wedding cakes we all ready looked at? And the LBP cake toppers? Of course you do. I think It's been made pretty clear that Mr. Giraffe have quite the geek side. It's really no secret, I mean he's pretty open with his love for video games and my obsession with comic books isn't exactly a secret.
I couldn't find a photo of TB looking geeky. But here's (an older photo of) Mr. G & I. I'm in one of my favorite shirts. I have more photos of me acting like Spider-man, but I couldn't find them.

If weddings can have a geeky (but oh so endearing) cake or cake topper. . . why can't said endearing geekiness translate into other aspects of the wedding? I don't know why I never thought of that before, but even though we're not working these into our more traditional wedding, they're just awesome. (Image sources all come from the original site links, listed near image).

The idea of geeky Save the Dates first occurred to me when I saw this STD (image from same source) on Projectwedding.com.

Oh man. I honestly love it. I mean, it really is kind of adorable. I haven't quite figure out why only 2 and a half hearts are full, I mean, you'd think all 3 would be full because of lovey dovey wedding goodness, but that novelty is so perfect that I can't complain!

Here's another one (image from same source). Mr. G & I never got into/played Magic cards, but I'm sure for a couple that does, a STD magnet that looks like a card from the game would be super fun.

And this one (image from same source) is from a video game website. (Follow the link for an equally geeky and adorable proposal story). For all you Wii lovers, how great is it that the STDs feature their Miis? (Lots of rhyming there haha). That would be cute for Mr. G and I, except that he teases me about being short (which I'm really not) so he made my Mii the shortest possible and it looks so silly next to his taller Mii.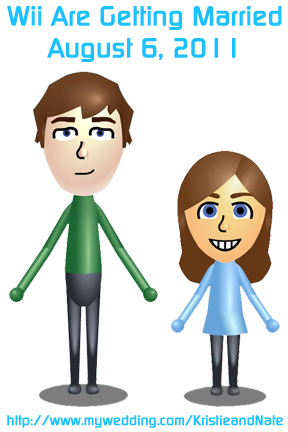 This one (image from same source) is a little more nerdy than geeky (if there's really a difference. C'mon people, is there?). I have a friend who is a math teacher and totally math nerd, and its too bad he's all ready married, because he totally would have done something like this.

And I love this one (image from same source)! Although Mr & Mrs. Pack Man have all ready been married for like 30 years, I'm sure they looked something like this for their big day? (Do you think Pinky, Inky, Blinky, & Clyde were invited?)


Here's another Mii STD (image from same source) that I found on the Weddingbee website.

I'm not sure if this is exactly geeky or not, but its not the plain jane either. I absolutely love love love sock monkeys, so I just about died when I found this sucker (iamge from same source) on etsy.


And I saved my personal favorite for last (image from same source). I never knew geekiness could look so chic ;-).

Okay, one more (image from same source). I don't think a Save the Date has ever made me so happy. My geekiness stems from my obsession with Marvel comics. Now, I love Spidey as much as the next girl, but the X-Men really have my heart, specially Remy LeBeau. I adore the super tragic yet super amazing 'love' story between Remy and Rogue, who really do love each other, for realsies, this STD just warms my little geek heart. (Oh and for the record, I have finally forgiven Rogue for that whole bit in Antarctica, and I think that whole Massacre was blown way out of proportion. I know its been a while but I feel the need to share my two cents.)

Oh! And apparently, there's been quite a few geeky wedding invites, too, but that's a story for another post ;-).

Anybody gettin' geeky with their STDs? I would love to see them!