Hello Hive,

Oh, I'm sorry if you don't recognize me. I know the name Mrs. Giraffe sounds strange, but I swear I'm just the same as that Miss Giraffe from a week and a half ago. Really.

I logged into the 'Bee on the second day of our honeymoon to see all the well wishes you guys left for me and the Mister. It was wonderful. Thank you.

Mr. Giraffe and I just returned home from Mexico on Sunday and I'm back at work today so we're trying to get settled into a routine. Y'know, a routine that means packing and moving into our new townhome and how to start the process of changing my name. Man, I thought I'd be done with projects now that the wedding is over. . .

Anyway, I have a billion pre-wedding things to share with you, still, hive (like hello? invitations!), and I promise I'll get to them soon. No, worries, though, it'll be a while until we get pro pics back, but then I'll have even more to share. Hang in there, it was a wild night.

It was the best day of my life, and I can't wait to clue you all in on the good, the bad, and the better.

But, hey, to tide you over until the pro pics come in, here is a pic my sister took on her iPhone. Epic for sure.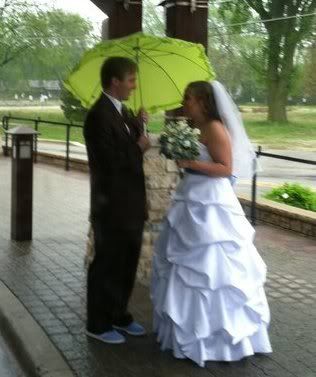 Can't wait to tell you allllllll about it!