Recently, I attended a wedding shower for the lovely lady who is marrying one of Mr. G's brothers. I love the girl and it's awesome that Mr. G's family keeps growing and giving me more people to enjoy!

My MIL and SIL were one of the shower hosts, and when they mentioned they were in charge of centerpieces as well as some other things, I quickly volunteered to take over the centerpieces. It worked out great because 1) I live for craft projects and 2) it gave my SIL more time to concentrate and the oodles of delicious cupcakes she was baking for the shower.

There were no colors picked for the shower, but it was loosely Disney themed (because the two got engaged at Disney World), so I picked up that theme and ran with it.

I was up for anything, but my mail goal was something I could make/make pieces of before hand because I would need 10 of these to travel up to my in-laws with me, and then on to the shower from there.

I was inspired by this image from etsy. It's clearly for a birthday, but it gave me a good jumping off point. (All of the following are personal photos unless otherwise noted.)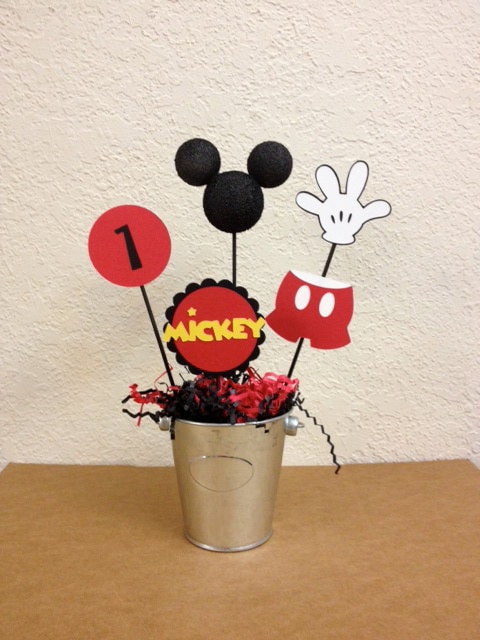 After that, I turned to Adobe Illustrator to create the pieces I knew I'd need. I knew I wanted a Mickey head with the happy couple's name cut out of it. I planned to cut it out using the SCAL software and my Cricut. Unfortunately, I have a smaller Cricut that can only cut up to the size 6"x12", but I remedied that by cutting the Mickey ears out separately from the rest of the head.
I then designed a bow as well, so I could have Mickey on one side and Minnie on the other. I cut solid color paper to go behind the cut outs so it could be double sided.
After cutting it out, I embossed the head and bow pieced in my Cuttlebug to give them some texture.
I stopped by Target to pick up a backet from the $1 spot and some flowers so I could send a photo of my mock up to my MIL and SIL.
My MIL & SIL love it, so I went back to my basement and got everything cut out and assembled in about a week. The Mickey heads are connected to wooden $.99 barbecue skewers.
The weekend of the shower, I went to my in-law's house a day early. My MIL went to a local nursery and brought little plants (instead of loose flowers link in the mock up). It made things much easier.
We stuffed a bunch of $1 buckets with tissue paper, and then put a plant (in a red Solo cup so it wouldn't leak), in each bucket. Then I stuck the Mickey skewer in after that, letting my little-SIL pick what color should go together.
All lined up on the deck, just waiting for a shower to decorate
When we got to the restaurant the next day, we set each centerpiece down on a white doily. I also sprinkled Disney themed confetti around that I had made with my Cricut & SCAL as well.
The other guests loved the centerpieces, but what really mattered was my BIL's and future SIL's opinion. Luckily, they loved them too and I was so happy I got to help out!
Has anyone else been making wedding/wedding shower decorations lately? How's it been going?