Hey Hive, I know I haven't been around much, but I'm in crazy wedding crunch time mode, and I don't know how this wedding sneaked up on me! Seriously, though, I might turn into a crazy person in the next 17 days. Let's see what happens.

One of my favorite things in the entire world is cake. In a perfect world, I would replace every meal I ate with chocolate cake and VitaminWater. It'd be pure bliss, I tell you.

Because of my love affair with cake, I had no doubt in my mind that we'd need an amazing (and tasty!) cake for our wedding.

My previous cake experience had been pretty limited to birthday cakes, but man oh man, wedding cakes can blow your mind. The things bakers can do? Unbelievable!

Prettiest cake ever by
Maisie Fantaisie
via
InspirationWed
As much as I love a fancy, all out, bottoms up kind of cake (which I do!), I knew it had to be something a little more simple for these Giraffes. Our wedding is super traditional, and although I didn't necessarily want a super traditional cake, I do want something a little more understated, that could tow the line between traditional and not.
Oh, and I also knew it had to be a round cake. I cannot picture myself getting married celebrating with anything other than a round cake. This is one idea in my head that I just cannot let go!
It all started with the inspiration photos (warning: these can be dangerous if you're hungry)...
via
the Knot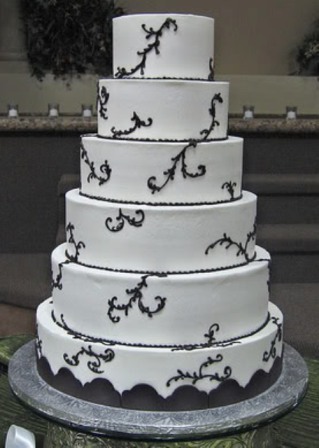 via
Simple Wedding Pictures
via
Cake Central
via
Wedding Cake Pictures
via
Sedona Wedding Cakes
via
Sedona Wedding Cakes
I think it's easy to see some similarities. Mr. G & I were really drawn to dots, swirls, ribbon, and simplicity.
But where did that get us? We knew what we liked, but we couldn't quite find the right photo to pass onto to baker. . .sooo I did what any crazy bride-to-be would do!
I built my cake in Adobe Illustrator!
I know, I know, it's a little crazy, but I knew exactly want I wanted and that seemed like the best way to do it. I passed on my Illustrator photo to the baker, and they can make it match. I'm so excited!
I think our cake will be simple and sweet, and just all around perfect! I am sooo excited/happy/want to eat about this cake!
How excited are you about your cake?
PS - Want to design your own? Here, use the Giraffe template!